Gutter system – offered by our company – is produced from titan – zinc as a complete drainage system, used when we want to obtain classic, elegant look and high durability.  It is commonly used for new buildings and for renovating old ones and historical monuments. This system is accessible in two sizes 125/90 and 150/100 and two different types of cover:
–      natural – glossy metal surface, which becomes light grey matt patina as a result of weather factors;
–      patina with grey matt surface, obtained by chemical production process.

MATERIAL
Titan – zinc is a zinc alloy  with little titan, copper and aluminium. It has very good durability parameters. As a result of weather conditions, there forms a thin, matt layer of monoxide – patina on the glossy surface of the gutter.  Matt effect is natural and demand as a security from corroision, which do not have to be painted or extra secured. Titan in the alloy makes it more resistant to acid rains. It is less durable than copper, but is cheaper.
Main advantages of titan – zinc gutters:
–      durability for mora than 80-120 years, depending on weather conditions;
–      mechanical durability – snow lingering, sudden rains, strong wind;
–      does not corroise on cut borders;
–      resistant to scraches;
–      does not need to be painted;
–      environmentally friendly – could be 100% recycled.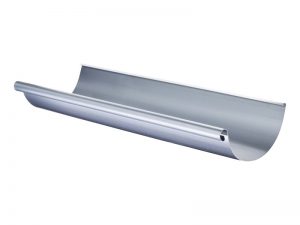 Address:
RWT Sp. z o.o.
ul. Parkowa 1/6
39-100 Ropczyce
Contact:
+48 882 559 953
+48 882 559 951
+47 486 33 800
Info:
Org. nr. PL 818-171-99-79