PU-R ROOFING SANDWICH PANEL
(POLYURETHANE CORE)
WHEN THE INSULATION LEVEL AND PRICE MATTER
The rigid polyurethane foam core provides excellent thermal insulation for buildings. This comes from the excellent thermal conductivity coefficient, λ = 0.022 (available with PIR-core sandwich panels), unparalleled by any mineral wool or EPS sandwich panel. The overall solution in PU-RB can be less expensive thanbminer al wool sandwich panels, by some 40-60%. The polyurethane-core sandwich panels provide a high fire integrity, achieved by the unique double-sided
profile of the panel joint lock faces. The PU-RB sandwich panels are delivered with superior protective coating which prevents corrosion.
Superior thermal insulating efficiency
The PU-RB polyurethane-core (PIR) sandwich panels boast high thermal bin sulation performance. The lambda is just 0.022 (W/mK), making the sandwichb
panels superior to other thermal insulating products in its class.
Easy installation
The carefully-designed joint lock profile and tapered inner contact edges assist in the very quick laying of the panels.
High load capacity
Box-profiled outer cladding.
Fast installation
A single sandwich panel replaces a whole roof structural layer: the load-bearing, water-tight and thermal-insulation components.
APPLICATIONS & INSPIRATIONS:
– Light roofing
– Industrial & commercial buildings
– Agricultural buildings
– Logistic buildings
– Fruit and vegetable stores
– Sports arenas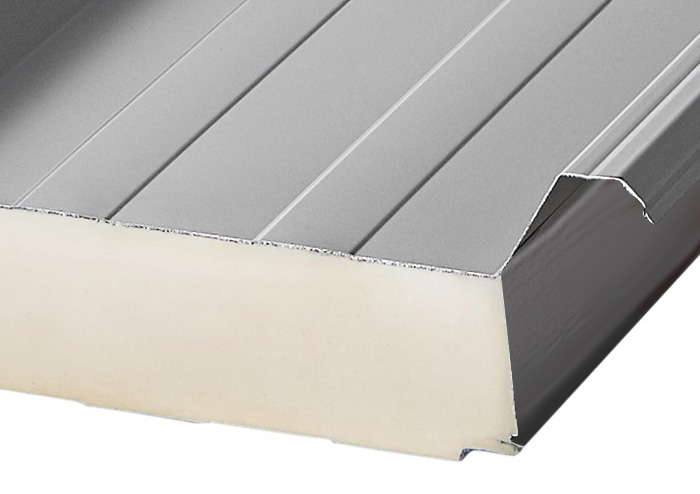 Address:
RWT Sp. z o.o.
ul. Parkowa 1/6
39-100 Ropczyce
Contact:
+48 882 559 953
+48 882 559 951
+47 486 33 800
Info:
Org. nr. PL 818-171-99-79